NEWS
2023/6/27

We have released the contest website.
For this contest, participants will create and submit English subtitles for a scene from a Japanese film. Translation experience is not required, so if you have any interest in visual media translation or Japanese content, please feel free to participate. Through this contest, we hope to give you a glimpse of what the world of English subtitling is like and encourage an interest in visual media translation and Japanese media content.
Start and End Dates:
June 27 (Tue) 12:00 pm to August 1 (Tue) 11:59 pm (PDT)
June 28 (Wed) 4:00 am to August 2 (Wed) 3:59 pm (JST)
Entry Process:
Participants will submit their subtitle translations using Google Forms. Format: Online Contest
Format:
Online Contest
Entry Fee:
None. No purchase is required to enter.
Selection of Prize Winners:
JVTA instructors will judge and select one submission for first prize and two submissions for second prize.
Organizer:
Japan Visualmedia Translation Academy (JVTA)
Contest Rules and Requirements

応募要項
Subtitling Guidelines
・Follow the character limits for each subtitle card Please keep your translations within the character limits listed in ( ) for each subtitle card. The character limit is calculated by taking into account the duration of each line of dialogue.


・Letters, numbers, punctuation marks, and spaces between words are all included in the character count.
  Example: Where did you go? (17 characters)

・Please do not use any other punctuation marks or symbols other than question marks, exclamation marks, commas, periods, hyphens, and quotation marks.


・Insert a line break for long subtitles


・Each subtitle card can hold up to two lines of 40 characters. Make sure your translations stay within the limit of 40 characters per line by breaking the line into two when necessary. When you break the line, consider the sentence structure and where it would be natural to break the line.

Eligibility

No translation experience is necessary to participate. All are eligible to enter the contest except for the following: Those who have professional experience translating subtitles or voice-over for three or more projects where they are the sole translator.

Prizes

First Prize (1 Winner): $200 US Amazon Gift Card (USD, Digital Delivery)
Second Prize (2 Winners): $100 US Amazon Gift Card (USD, Digital Delivery)
*An awards ceremony for the winners is being planned to be held at the screening of Kamaishi Ramen Story at Japan Film Festival Los Angeles. More information will be provided once event details are confirmed.

How to Enter

Enter and submit your subtitle translations here: Google form URL
* Entries sent any other way will not be accepted.
* Multiple submissions, entries sent using methods other than the specified Google Form, and entries that are submitted past the deadline will not be accepted.


Introducing the Judges

Namiko Nagayama (Instructor, Translation Project Coordinator)
Born and raised in California, Namiko completed interpretation, business translation, and visual media translation courses at JVTA. As a J-E translator, she has worked on a wide range of materials including documentaries, short films, anime scripts, and corporate videos. Currently, she is a translation project coordinator for JVTA's Media Translation Center and also teaches classes as a J-E instructor.

Jessi Nuss (Instructor, Curriculum Developer for J-E Translation Program)
Originally from California, Jessi moved to Japan after graduating from UCLA. As an instructor for the J-E visual media translation courses at JVTA, she teaches the skills necessary to translate Japanese films, TV shows, manga, and other Japanese content for overseas audiences. She also leads curriculum development and training for new J-E instructors.

Important Notes:

・The copyright for submitted subtitle translations shall belong to Japan Visualmedia Translation Academy.
・JVTA is not obligated to respond to any inquiries regarding the translation material, judging process, evaluations and results, or entry confirmations.
・Any contact information you provide will only be used for the purposes of selecting and announcing winners, shipping prizes, and sending information regarding translation courses at JVTA. It will not be used for any other purpose.
・Please enter the contest only if you have understood and accepted the terms listed above.
・If any entries are found in violation of the contest entry rules or eligibility requirements, they will be disqualified.

Story
Kamaishi Ramen Story
2022/Japan/Color/16:9/1h25m/Direction & Screenplay by Akiyoshi Imazeki
Official Website

The ramen shop Kogawa Diner is in the city of Kamaishi, nestled between the mountains and the sea. After owner and chef Masae goes missing in the Great East Japan Earthquake, her husband Tsuyoshi and daughter Nakayoshi take up the reigns to keep the shop going. As the two struggle to retain customers, eldest daughter Masami returns after three years of zero contact. She antagonizes Nakayoshi, stating, "You can't replicate Mom's cooking" and telling them that they should close down. However, when circumstances force the sisters to work together, they may be able to bring back their mother's recipe they knew and loved.
Scene Description
As part of a video series ranking various types of ramen from the Tohoku region, YouTuber Maririn arrives at Kogawa Diner with two ramen reviewers. While Masami and Nakayoshi watch on, the reviewers start to eat the ramen, but Masami can't hold back her outburst at the way one reviewer eats their ramen.
(出題箇所のやりとり)
正実:おいおい何やってんだ。馬鹿にしてんのか?(27)
マリリン:馬鹿になんかしていないですよ。(28)
マリリン:この方は非常に優秀なラーメン評論家さんなんですが、欠点が一つ。(78)
マリリン:麺をすすれないんです。(27)
正実:は?ふざけんな。ラーメン評論家が麺すすれないとはどういうことだ。(52)
正実:評論家失格だろ。(23)
マリリン:大丈夫です。味覚は確かなんで。(40)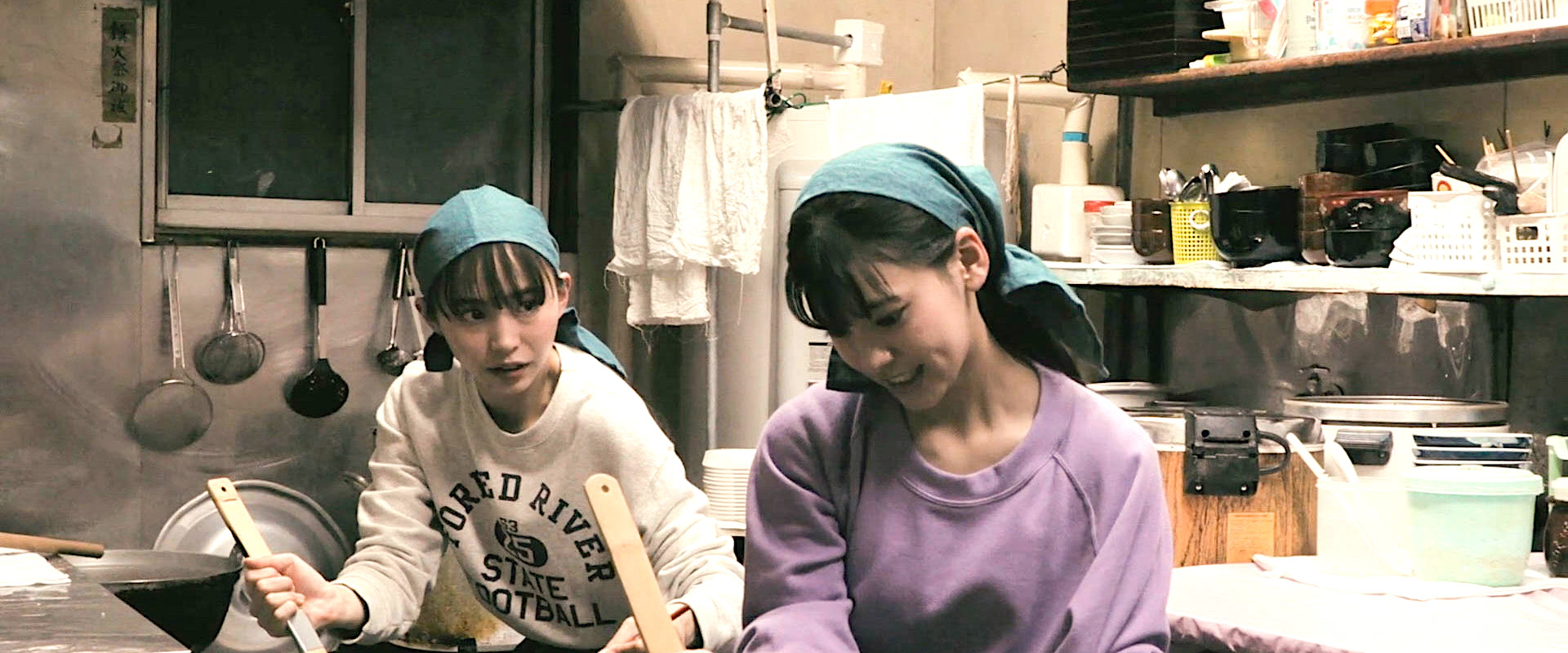 ©Kamaishi Ramen Story Production Committee
Pointers and Guidelines for English Subtitling

日英字幕翻訳のポイント