JVTA offers a variety of special courses designed and presented by Crispin Freeman, prolific American voice actor, director, script adapter, and anime scholar.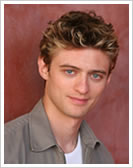 Crispin Freeman has been portraying characters in animation, anime and video games for over 12 years. He got his start in anime playing Zelgadis Graywords in "The Slayers". Since then he's played such famous roles as: Alucard in "Hellsing" and "Hellsing Ultimate", Itachi in "Naruto", Rude in "Final Fantasy: Advent Children", Prince Turnip in "Howl's Moving Castle", Tsume in "Wolf's Rain", Kyon in "The Melancholy of Haruhi Suzumiya", Alan Gabriel in "The Big O", Duskmon/Koichi in "Digimon", Holland in "Eureka 7", Haji and Van Argeno in "Blood+", Amon in "Witch Hunter Robin", Alex Rowe in "Last Exile", Togusa in "Ghost in the Shell: Stand Alone Complex", "Innocence" and "Solid State Society"
He's directed the English dubs of Space Travelers, Strawberry Eggs and Scrapped Princess. In addition to adapting the scripts for the shows he's directed, he's also adapted scripts for Pokemon, Witch Hunter Robin, Shamanic Princess, Night on the Galactic Railroad, Assemble Insert, Weather Report Girl and Boogie Pop Phantom.
He originally hails from Chicago, Illinois and Livingston, Montana. He got his undergraduate degree from Williams College where he majored in Theater and minored in Computer Science. Afterwards he went to Columbia University's Graduate Theater School where he got his Masters of Fine Arts in Acting. He's watched anime since he was a child, growing up on Speed Racer, Star Blazers, Battle of the Planets and Robotech and is so happy to be working on animation as an adult. You can find out more about him on his website: http://www.voiceactingmastery.com/classes/los-angeles-voice-acting-classes
If you have any questions about the content of the workshop,
please e-mail: classes@crispinfreeman.com